Parliament has been in recess for the past month and I've been busying myself here in Renfrewshire South. Before updating you on some of what I've been up to, I'd like to draw your attention to an Afternoon Tea I'm hosting in my constituency office this Friday (2nd August) from 1pm to 3pm to raise money for the charity Breast Cancer Care. I hope you can drop by for a tea/coffee, some cake and a blether. Please feel free to invite others along and help raise money for a very important cause.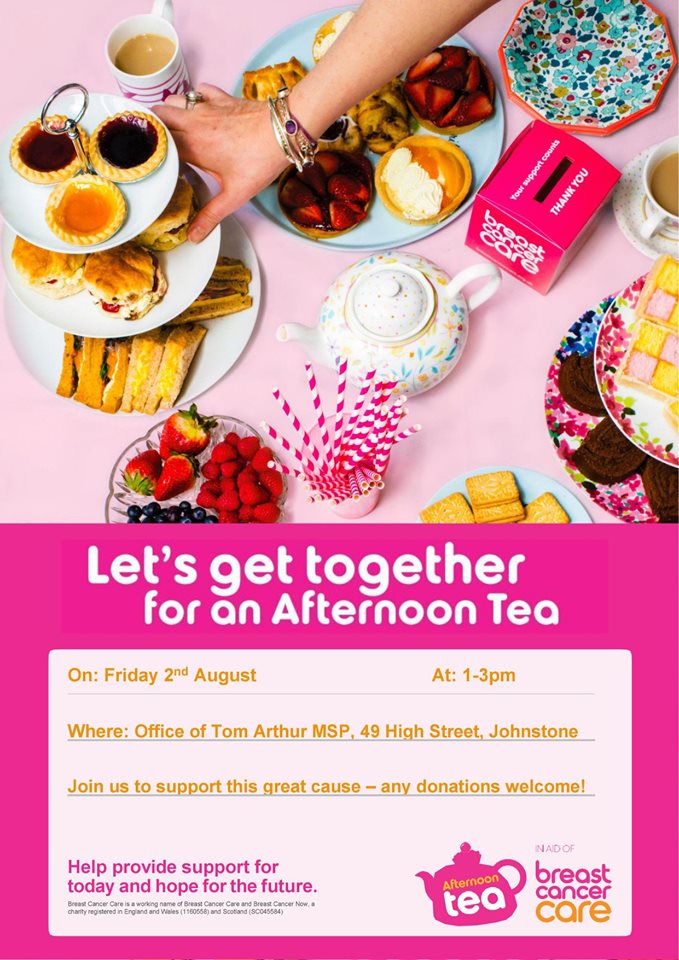 Before Parliament wrapped up for recess, I was active in the chamber asking questions on veterans, climate change targets, cycling, trade unions, male violence against women, the Scottish Budget, productivity, education, the Citizens' Assembly and the new Scottish Child Payment.
In my question on male violence against women, I took the opportunity to highlight the important work for White Ribbon Scotland, following my recent meeting with their Campaign Director, Davy Thomspson. White Ribbon Scotland campaign to promote positive change in men's attitudes and I'm looking forward to working closely with them both here in the constituency and nationally.
Earlier this month I was delighted to welcome Christina McKelvie MSP, Minister for Older People and Equalities, to Lochwinnoch to see firsthand the work of Roar – Connections for Life. Roar operate across Renfrewshire to enhance the wellbeing of older people. Amongst their many projects are classes to help prevent falls and enhance mobility in older people. Their work has an important part to play not only in helping help older people remain independent but also in tackling loneliness and isolation. I was pleased that Christina had the opportunity to see one of their classes in action here in Renfrewshire South and look forward to seeing their services develop and expand in the coming years.
Across Scotland we've seen significant reductions in recorded crime since the SNP came to power 12 years ago. As constituency MSP I seek to engage regularly with Police Scotland. I was therefore pleased to meet with new divisional commander for Renfrewshire and Inverclyde, Chef Superintendent Alan Murray. We had a wide ranging discussion on a number of issues and I look forward to continuing to engage closely with our local police to support constituents.
Another key achievement of the Scottish Government has been been delivering a new generation of affordable homes to Scotland, with a target of 50,000 by the end of this parliament backed up by £3.3 billion of SNP Government investment. I was therefore delighted to welcome Housing Minister, Kevin Stewart MSP, to Kilbarchan for the ground cutting on new housing association homes and to Barrhead for the official opening of the first council houses in a generation, delivered in partnership with SNP led East Renfrewshire Council.
I've also been pleased to have the opportunity to meet with local organisations, including Barrhead Amateur Boxing Club where I had the opportunity to present them with a copy of my parliamentary motion congratulating them on their recent funding success. I was grateful for the opportunity to meet and discuss their work promoting fitness and inclusion in the local community.
While the population of Renfrewshire South is overwhelmingly concentrated in the towns and villages, there is also a strong agricultural presence across what is a geographically wide and diverse constituency. I was therefore grateful for the opportunity to meet with the National Farmers' Union Forth and Clyde Chairman, Willie Harper last week to discuss local farming and the wider agricultural sector in Scotland. I now plan to take forward a piece of extensive engagement with the farming community across the constituency and ensure that their views – including on Brexit – are clearly heard in Parliament.
As well as getting out and about meeting groups over recess, I've also been holding my regular surgeries and working with my fantastic team of staff in my office in Johnstone to support constituents on a range of issues. If you or anyone you know in the constituency needs help, please don't hesitate to get in touch.
Later this week I'll be having meetings with Police Scotland, the Scottish Contemporary Art Network, Barrhead Housing Association and a local business. As mentioned above, I'll be rounding off the week with my afternoon tea in my office to which I hope you can make it along!