Next month's General Election is an opportunity to put Scotland's future in Scotland's hands. Over the past few weeks, it has been an honour to campaign, along with local SNP branches, for the three outstanding SNP candidates across Renfrewshire and East Renfrewshire.
There has been a positive response to the strong SNP message and I look forward continuing to work for the return of Mhairi Black, Gavin Newlands and Kirsten Oswald as MPs for Paisley and Renfrewshire South, Paisley and Renfrewshire North and East Renfrewshire respectively.
I began the month by attending the Independence 2020 rally in Glasgow. The atmosphere was terrific and it was great to see so many people from Renfrewshire South attending, as well as hundreds of others from around the country.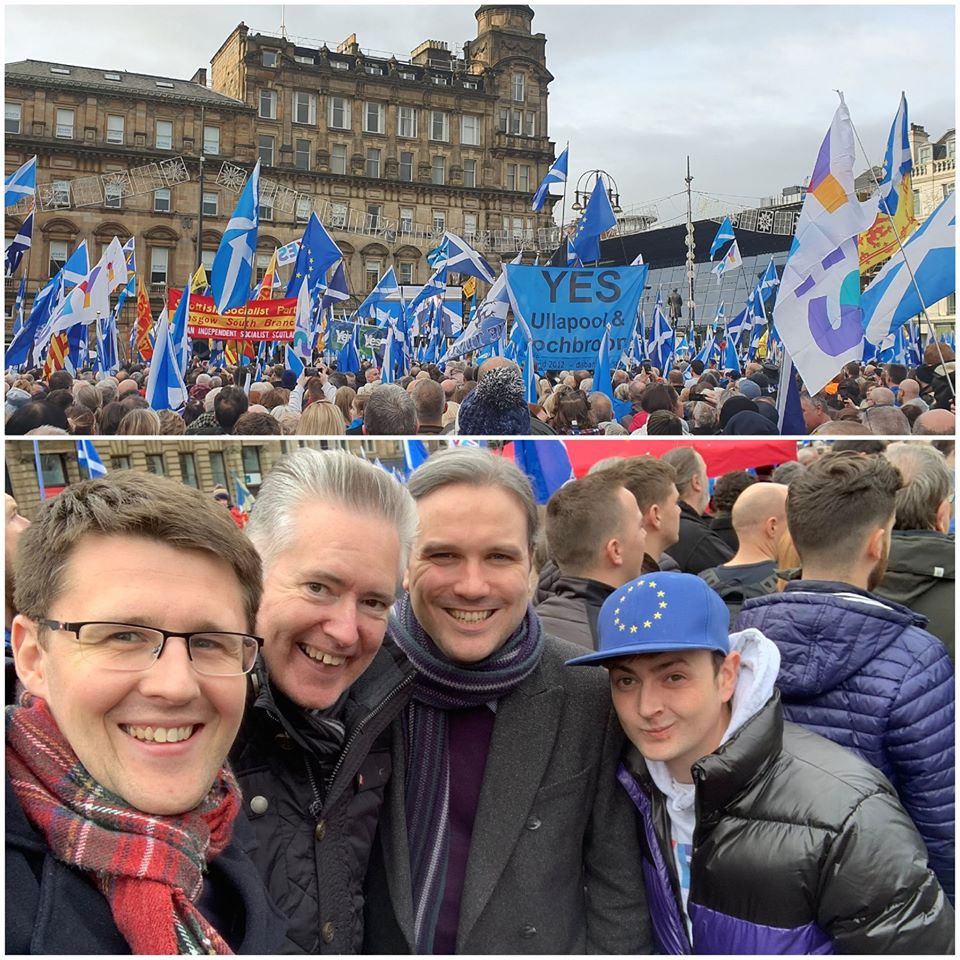 On 4 November, I held a Supermarket Surgery in Linwood where I was able to spend some time chatting with constituents and picking up casework.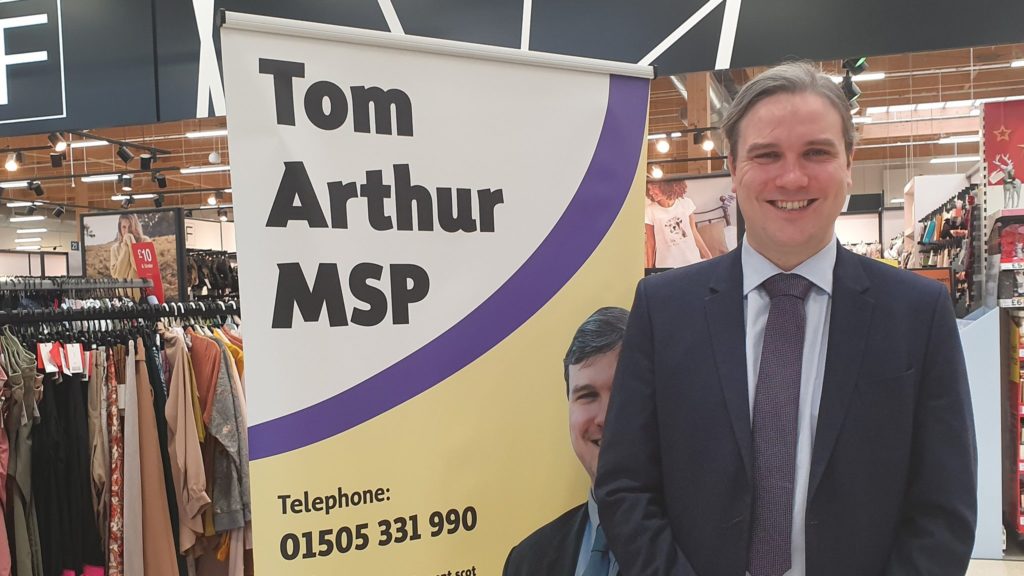 In the afternoon, I attended the premiere of the Lochwinnoch Arts Festival 2020 promotional film at Lochwinnoch Primary School created by the incredibly talented Primary 6s with the support of BAFTA award winning filmmaker Carol Cooke. Well done to everybody involved!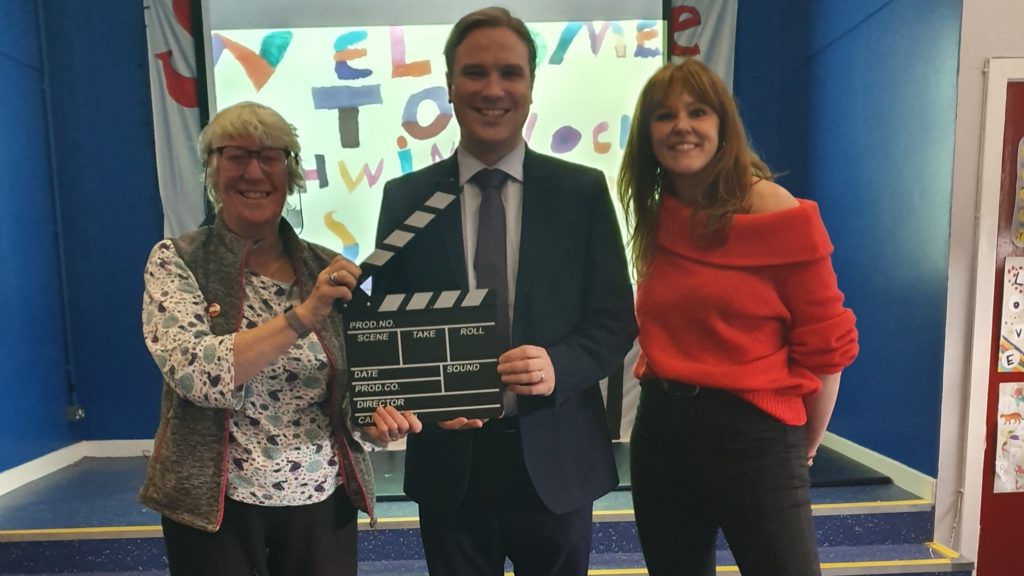 In a report published recently, the Scottish Affairs Committee recommended that legislation be introduced to lawfully pilot a supervised drug consumption facility in Scotland.
Therefore, on 5 November, I asked Minister for Public Health, Sport and Wellbeing, Joe FitzPatrick MSP, to join me in condemning the UK Tory government's decision to continually ignore evidence in favour of such a facility.
These facilities can save lives and it is vital that the UK government take the necessary steps to either support a pilot facility or devolve the powers to Scotland so that this parliament can take these actions.
Glasgow Airport is in the early stages of its Airspace Change Programme and I recently met with AGS Airports Limited, which owns and manages the airport, for an update on how it is progressing and on opportunities for the local community to get involved.
I was glad to hear that this will be an extensive and transparent process with numerous opportunities to participate and share views. While the consultation itself is not set to begin until 2021, I encourage constituents to register their interest ahead of time in order to stay up to date with developments as they progress.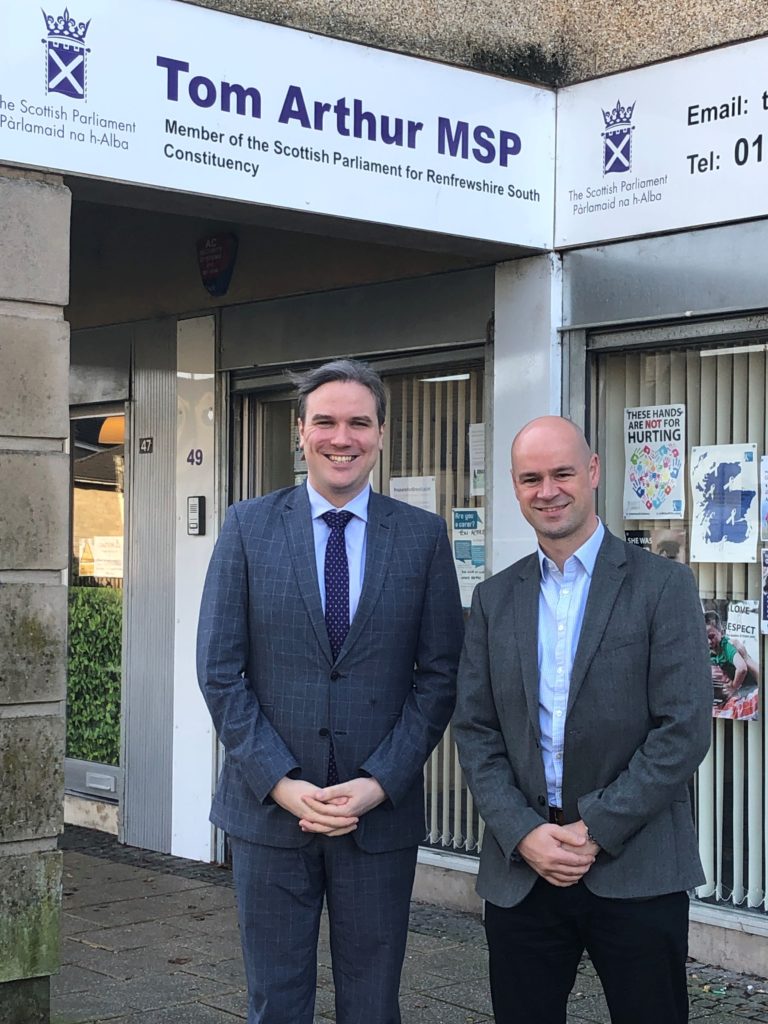 On 7 November, I had the opportunity to take part in my colleague George Adam MSP's important Members' Business Debate recognising nuclear test veterans.
Between 1952 and 1958 the UK carried out 21 atmospheric nuclear tests – 12 in Australia, 9 at Christmas Island, now called Kiritimati – in the South Pacific.
As many as 22,000 witnessed the explosions in the South Pacific, of which, around 1,500 survive today. Many have been battling since 2004 for compensation in relation to the health problems caused by radiation exposure.
The harrowing personal accounts from nuclear test veterans, including my constituent and friend Ken McGinley, deserve to be heard and recognised. No one could be subject to these experiences and not be profoundly impacted for the rest of their life – both mentally and physically. The UK is the only nuclear power to deny special recognition to its test veterans, and to continue doing so is shameful.
Later that day, I was pleased to speak in the Stage 1 debate on the Referendums (Scotland) Bill – particularly as a member of the Finance and Constitution Committee designated to lead on the Bill.
This Bill provides legal framework for the holding of referendums on any matters within Scotland's control and aims to provide clarity on the process for voters, campaigners and those administering the process, to ensure all referendums are run to the highest possible international standards and the results are accepted by all parties. Now, more than ever, it is essential that we keep Scotland's options open so that people have the opportunity to choose a better future.
On 8 November, I had a busy morning in Barrhead meeting with Kelburn Brewing Co before catching up with folk at Dunterlie Foodshare. It was great to chat with local Corra Foundation community co-ordinator Laura Mathieson, Barrhead Community Council Chair Rosaleen Reilly and the brilliant Rena McGuire before finishing the day off with a few monthly surgeries.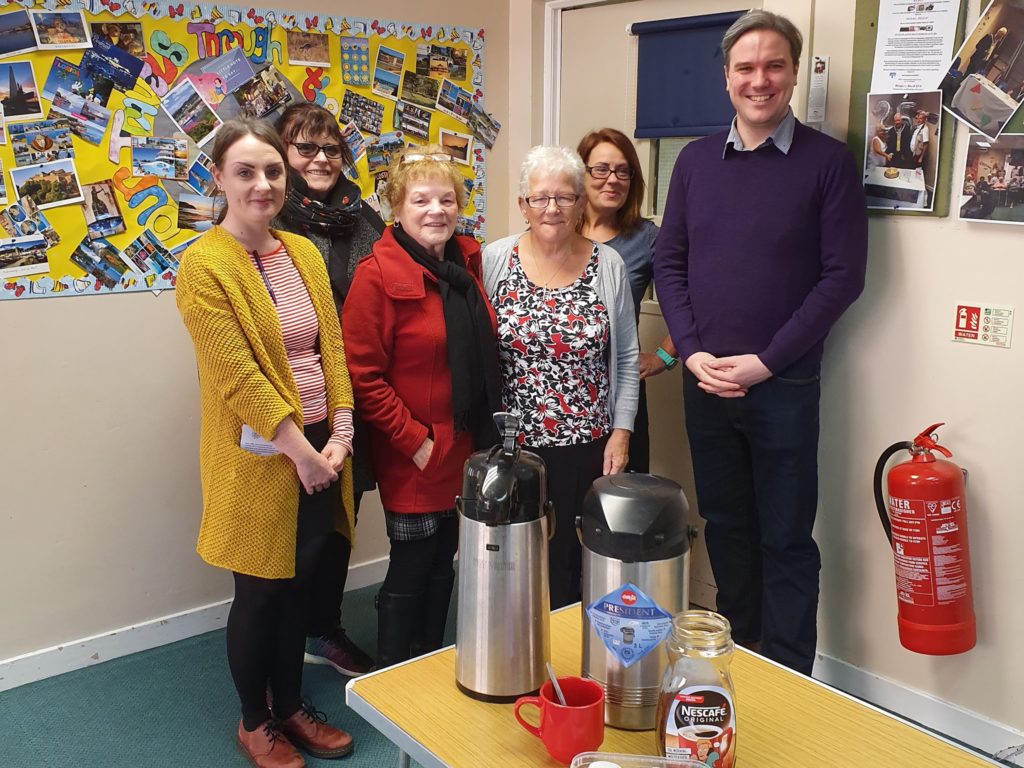 To mark Remembrance Day 2019, I was deeply honoured to attend services and lay wreaths in Kilbarchan, Lochwinnoch, Johnstone and Barrhead. I would like to offer my thanks to all in our communities across Renfrewshire South who helped organise, participated in and attended the commemorations.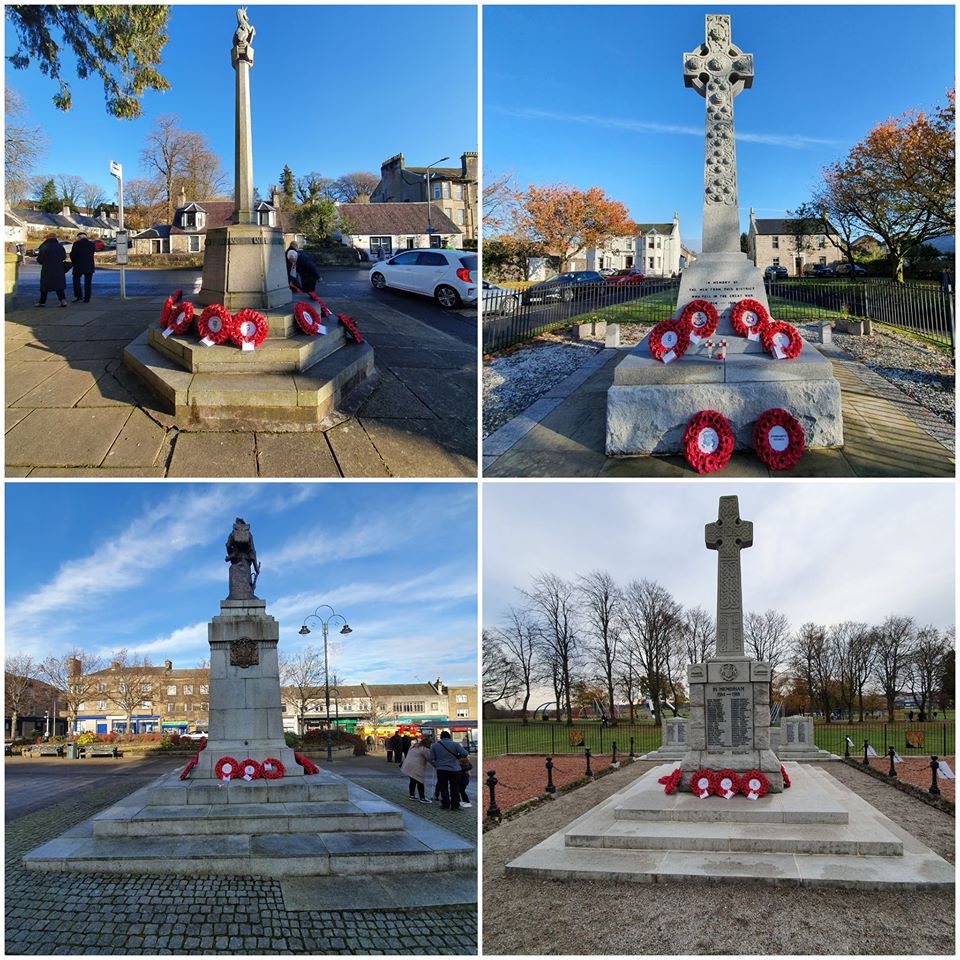 On 12 November, it was a privilege to chair a panel session in Johnstone featuring First Minister Nicola Sturgeon and Mhairi Black. Both gave excellent speeches and there was also an engaging question and answer session from a packed audience. Thanks again to everyone who came along and to staff at Johnstone Town Hall.
After Bonfire Night, I was made all the more aware that people across Renfrewshire South want to see a ban on the public sale of fireworks.
People are understandably calling for an end to the stress caused by inconsiderate individuals who, despite repeated public information campaigns, continue to use fireworks irresponsibly.
As such, I asked Minister for Community Safety, Ash Denham MSP, as well as how the new Fireworks Review Group will ensure views of veterans are represented, if she agrees that if the UK government is not willing to take action on banning the public sale of fireworks, powers need to be devolved to this parliament so that we can.
Later that week, I took part in a debate on Artificial Intelligence and data driven technologies brought to the chamber by Minister for Public Finance and Digital Economy Kate Forbes MSP.
AI has the potential to greatly benefit the Scottish economy, improve productivity and efficiency and attract new businesses and highly paid jobs. However, the challenges and concerns surrounding AI and automation must be addressed if we are to benefit from the opportunities that they present.
Following her statement on Queen Elizabeth University Hospital Ward Closures, I asked Cabinet Secretary for Health and Sport, Jeane Freeman MSP, to give an assurance that to ensure lessons are learned across Scotland's NHS, the Scottish Government will consider fully the findings of the report on Shrewsbury and Telford Hospital NHS Trust, material relating to which emerged last week.
I was proud to support Carers Rights Day on Thursday 21 November. The annual campaign aims to reach as many of the 6.5 million carers in the UK as possible by bring organisations together to help carers in their local community know their rights and find out how to get the help and support they are entitled to. Figures released recently by Carers Scotland show two thirds of adults in Scotland can expect to care unpaid for a loved one in their lifetime. The organisation's Will I Care research is available here.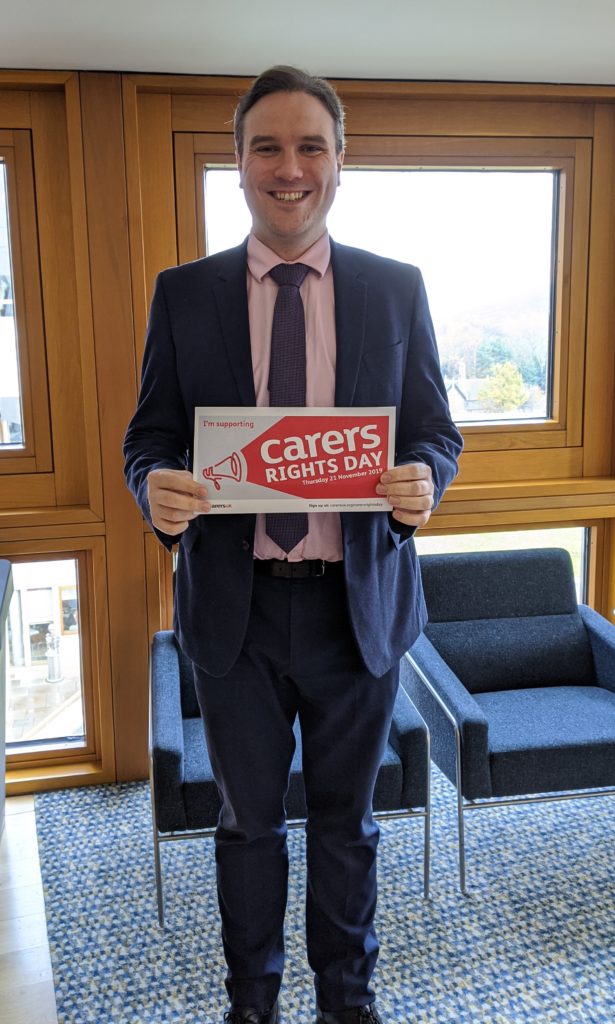 During FMQs, I asked First Minister Nicola Sturgeon how the Scottish Government is recognising Carers Rights Day 2019, and how it supports Scotland's nearly 800,000 carers, including 44,000 who are under the age of 18, to feel empowered and ensure they are treated with the dignity, fairness and respect they deserve.
It was encouraging to hear the announcement that the next payment of the Carers Allowance Supplement will be paid before Christmas.
In addition, the First Minister highlighted the Carer Positive Employer accreditation scheme, of which I am a proud advocate, as well as the fact that Scotland is also the first place in the UK where young carers are able to get financial support through the Young Carer Grant – a £300 annual payment for carers aged 16-18.
The following day, I was delighted to be asked to address Carer's Scotland's 2019 Carers Summit at Glasgow City Chambers in my capacity as Co-Convener of the Cross-Party Group on Carers.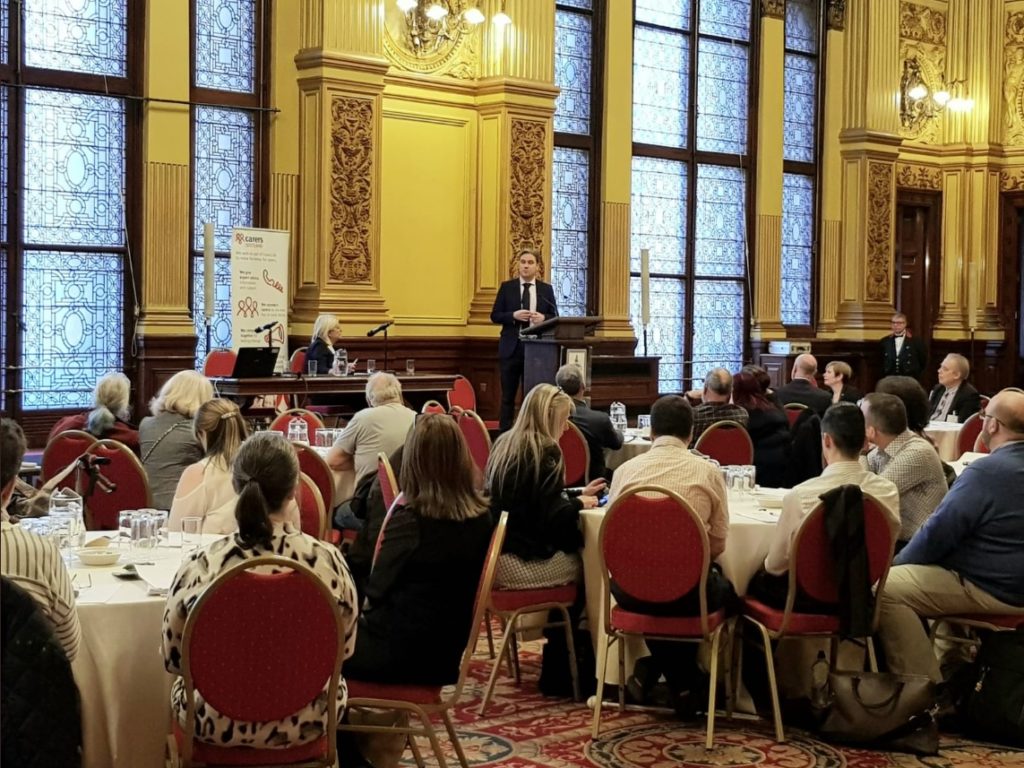 This Monday marked the beginning of the UN's 16 Days of Activism Against Gender-Based Violence – an annual international campaign that runs from 25 November, the International Day for the Elimination of Violence against Women until 10 December, Human Rights Day.
Despite the progress visible as Scotland continues to strive for equality, violence against women is still alarmingly high, with more than one in three women experiencing violence in their lifetime.
Changing our attitudes towards how society treats women is essential. Organisations like Zero Tolerance and White Ribbon Scotland do an exceptional job in changing hearts and minds in the fight against gender-based violence and I will continue to support these efforts.
Earlier this year, I was pleased to join my colleague Gavin Newlands MP, who has done excellent work on this issue as APPG White Ribbon Chair and White Ribbon Ambassador, to celebrate the success of the White Ribbon campaign in betting shops asking men to sign a pledge "never to commit, condone or remain silent about violence against women in all its forms."
This particular campaign has resulted in over 4,200 signed pledges being obtained from seven areas across Scotland with over 1,000 of these coming from the Renfrewshire Area.
On Tuesday, I attended a drop-in session hosted by HIV Scotland and Waverley Care at the Scottish Parliament. This World AIDS Day, Sunday 1 December, the two organisations are teaming up to launch the Getting to Zero campaign, calling on Members of the Scottish Parliament to commit to action to ensure that Scotland meets global targets to reach zero new HIV transmissions, zero HIV-related deaths, and zero HIV-related stigma by 2030.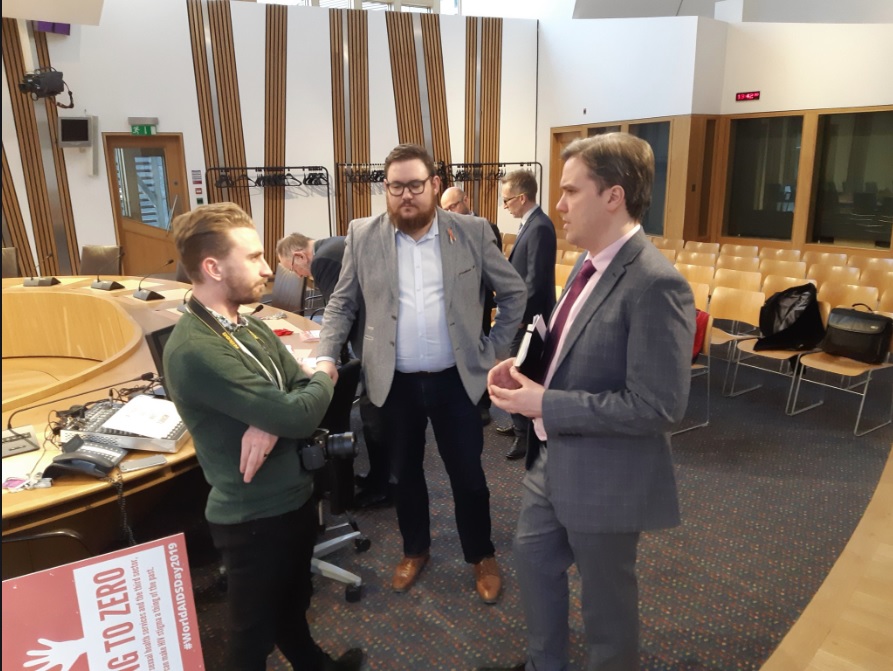 On Thursday, I led a debate celebrating St Andrew's Day 2019. Scotland's national day is an opportunity celebrate the country's heritage, culture and national identity both at home and worldwide in an inclusive and outward-looking way.
This year, St Andrew's Fair Saturday falls on the national day itself, 30 November. This global movement encourages communities to follow the consumerism of "Black Friday" with a response through cultural activity in support of social causes.
As part of this initiative, All About Barrhead Business Improvement District is hosting the Awfy Scottish Winter Wonderland event. The festive fair featuring Scottish entertainment in aid of Barrhead Christmas dinner packs is taking place tomorrow between 12pm-6pm.
Also taking place tomorrow at 12pm-5pm is Johnstone's Christmas Lights Switch On. Organised by Renfrewshire Council, this event is also part of the Fair Saturday initiative and will support St Vincent's Hospice and Active Communities.
I'm looking forward to raising further funds for St Vincent's Hospice with a coffee morning at my Johnstone constituency office on Friday 6 December between 11am-1pm. I'd be delighted if you could join me and hope to see you there!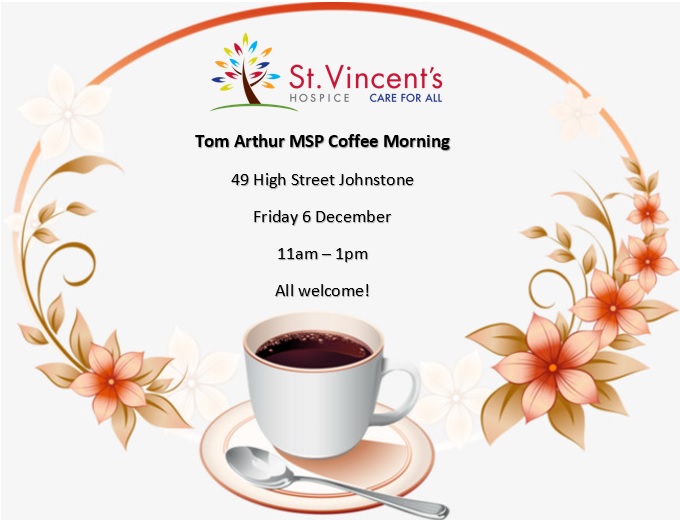 My office is also a drop off point for this year's Renfrewshire Christmas Toy Bank. This wonderful community campaign seeks to make sure no child goes without this Christmas, and I encourage everyone to support it if they are able by donating gifts at my office on Johnstone High Street or any of the other local donation points.