The end of the summer offered plenty of opportunities to attend local events and make the most of the lovely weather.
It was a privilege to speak at the annual Wallace Day commemoration in Elderslie on 24 August. I am grateful to the The Society Of William Wallace for the opportunity to join constituents as well as people from across Scotland and beyond to mark the 714th anniversary of the death of one of the most significant figures in our nation's history.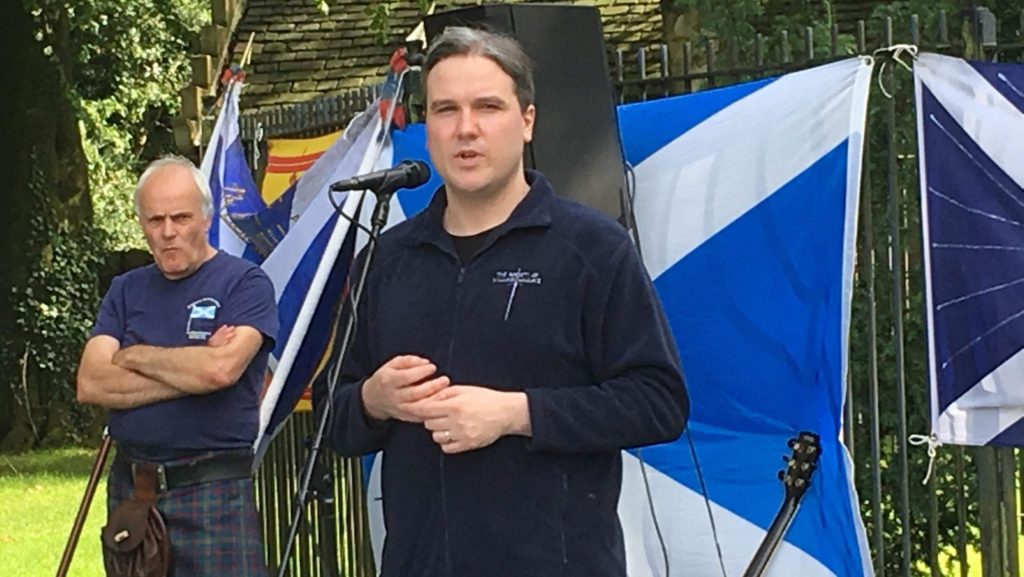 Johnstone Gala Day was another highlight of the summer, my Johnstone & Elderslie SNP colleagues ran a great stall and I had the opportunity to catch up with the fantastic Renfrewshire Women Against State Pension Injustice.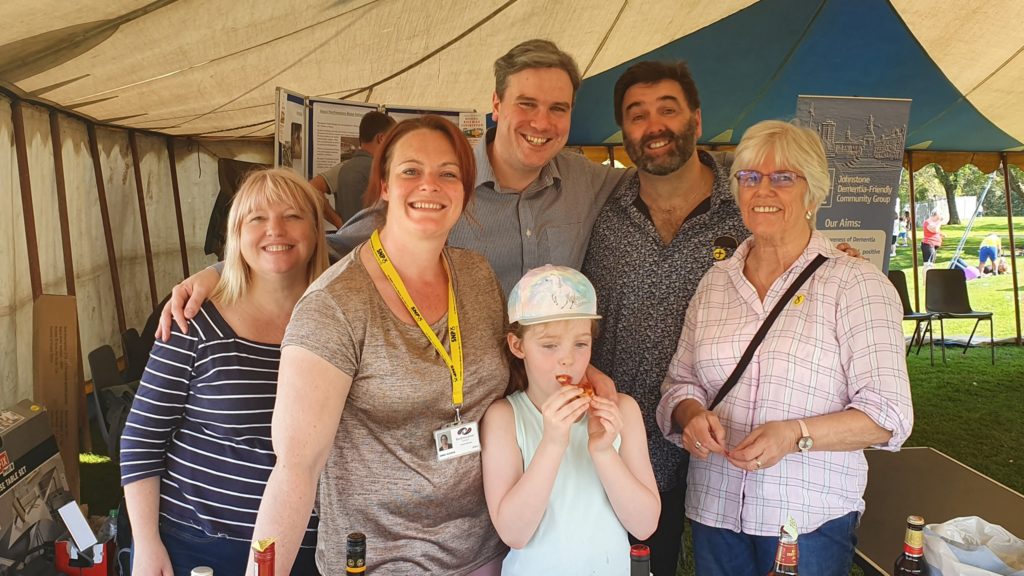 The WASPI campaign is going from strength to strength and it is an honour to continue supporting them. I was grateful for the opportunity to speak at their packed public meeting in Barrhead on 27 August.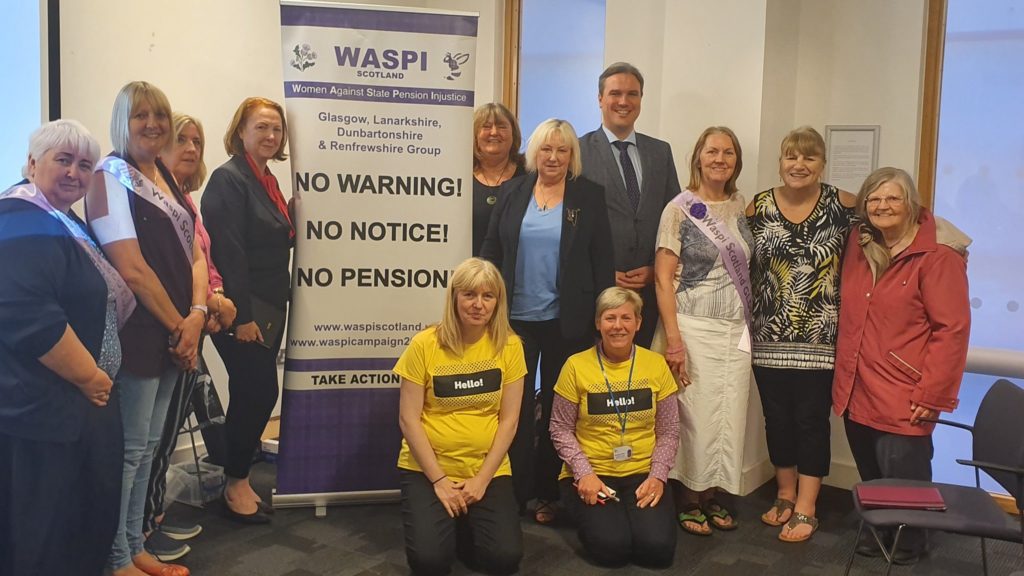 A massive thank you to everyone who came along to the afternoon tea I held at my Johnstone constituency office, it was a great chance to get people from across the local community together and we raised £130.50 for Breast Cancer Care.
The first few weeks back after summer recess have been anything but quiet, and it has been a tale of two governments. Whilst Boris Johnson unlawfully shut down Westminster, the SNP has continued to deliver progress, with the First Minister publishing her Programme for Government 2019-20.
In the face of the climate emergency and persisting uncertainty surrounding Brexit, ending Scotland's contribution to climate change and securing a fairer country with a positive future for generations to come are the focus of this year's Programme.
The ambitious set of proposals are proof that, even in the midst of persistent chaos, instability and even inactivity at Westminster, the Scottish Government is determined to get on with improving lives in Renfrewshire South and across Scotland.
For example, the £1.5 million Homelessness Prevention Fund will support housing associations and social landlords to work with their tenants to prevent crisis, and stop families from becoming homeless.
Having caught up with Barrhead Housing Association over summer recess to discuss a range of issues relating to their positive work in the local community, I was delighted to help them celebrate Scottish Housing Day on 18 September. I joined Barrhead them for a visit to their Neilston Road site, where Taylor Wimpey is delivering 12 new affordable homes, as well as hearing first-hand the positive impact the association has had on tenants.
Housing associations offer so much more than places for people to live – they support tenants through a range of services from financial and employment advice to linking up with health and social care – and it's only fair that they too receive support.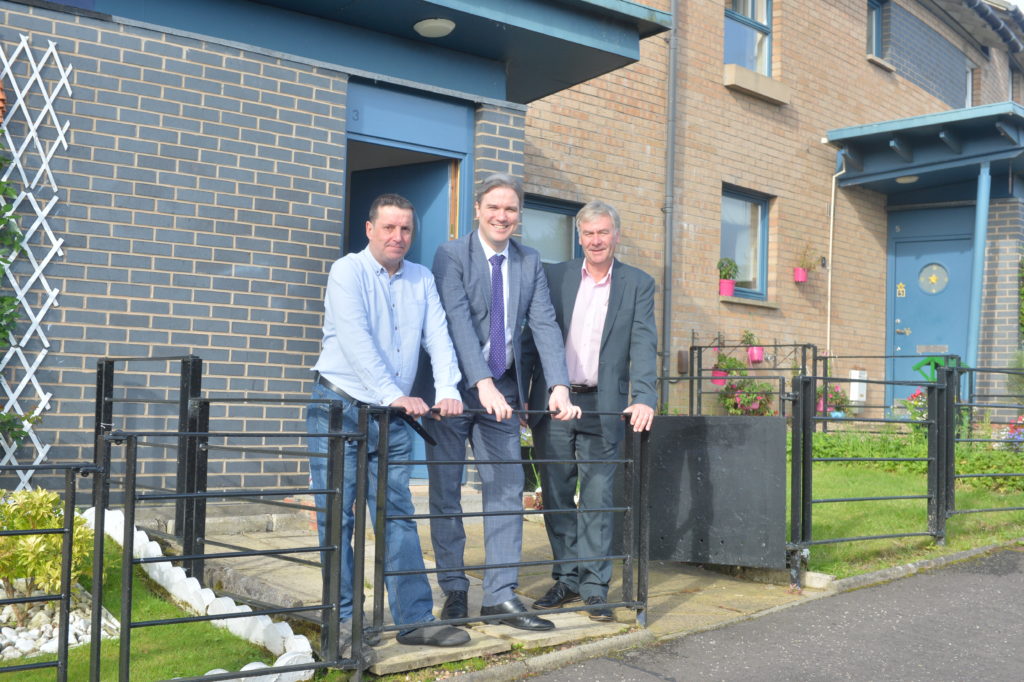 I recently chaired meetings of the Cross-Party Groups on Social Enterprise and Music, as well as co-chaired the CPG on Carers. In the coming months, I'm hoping to encourage as many local employers as possible to accept my invitation to join the Carer Positive Employer Initiative, in the hope of kick-starting the process of making Barrhead a Carer Positive town.
I also visited the Battersea exhibition to pledge my support for an increase in the maximum sentence for animal cruelty to 5 years.
At present, Scottish courts can only punish the most serious acts of animal cruelty with up to 12 months in prison or a fine of up to £20,000 and a ban on keeping animals. While stronger than the maximum penalty of six months in England and Wales, it is still lenient compared to most European countries.
Battersea believes a five-year maximum sentence should be possible and indeed the SNP Government has included this intention in its Programme for Government.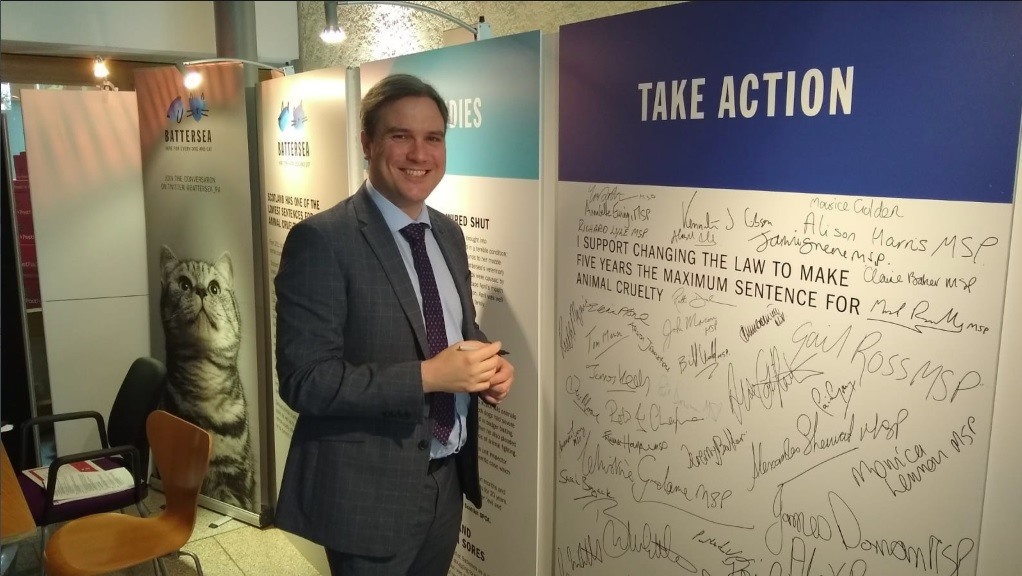 I am always grateful for the opportunity to celebrate local achievement at Holyrood, whether it be through debates, questions or motions. During a recent debate on the importance of investing in Scotland's Credit Unions, I was able to highlight the work of both Johnstone Credit Union and Pioneer Mutual in Barrhead – organisations that have played an important role in tackling financial exclusion and protecting people from predatory lenders and unmanageable debt for many years.
The debate coincided with news that, from next spring, a new £10 million Scottish Government fund will go towards supporting credit unions to develop their operations through the use of platforms such as IT and provide services to a greater number of people.
Research released last week revealed that EU citizens feel more welcome and safer in Scotland than they do in other parts of the UK and, during FMQs, I asked First Minister Nicola Sturgeon to reiterate that the Scottish Government will always stand up for the rights of EU nationals living in Scotland.
More information on the EU Citizen's Rights Project, which provides information, advice and support for EU citizens in Scotland, is available here.
Over the summer, I presented a copy of my parliamentary motion to All About Barrhead recognising their fantastic inaugural All About Barrhead Awards held earlier this year, and was delighted to highlight their positive work again during General Questions last week.
I invited Minister for Europe, Migration and International Development, Ben Macpherson MSP, to join me in commending the work of the All About Barrhead team on their Awfy Scottish Winter Wonderland event, taking place on Saturday 30 November, as well as the excellent series of events they organise in the town throughout the year.
There's a positivity and self-belief in Barrhead that is palpable and the Barrhead BID are playing a big part in it.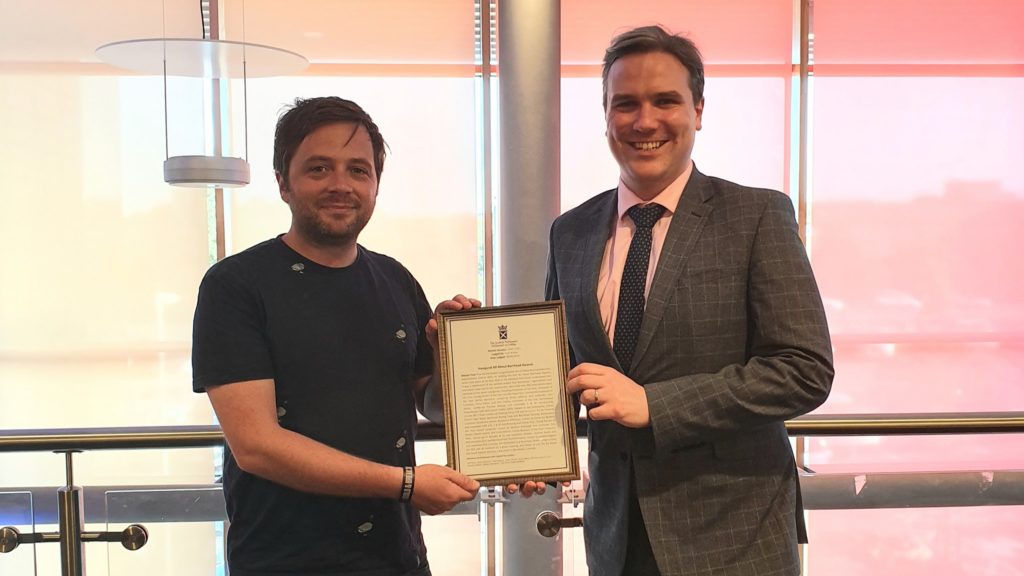 I was delighted to attend the Corra Foundation's reception on 24 September and hear inspiring stories from people who are changing their communities for the better.
It was a real pleasure to catch up with Barrhead legend Rena McGuire. I know the action being taken in Dunterlie is having a real positive effect as the project goes from strength to strength and I am looking forwarding to meeting up with everyone involved later in the Autumn.
When they are listened to and given flexible support, people can shape solutions that bring communities together, improve local areas and meet the challenges they face.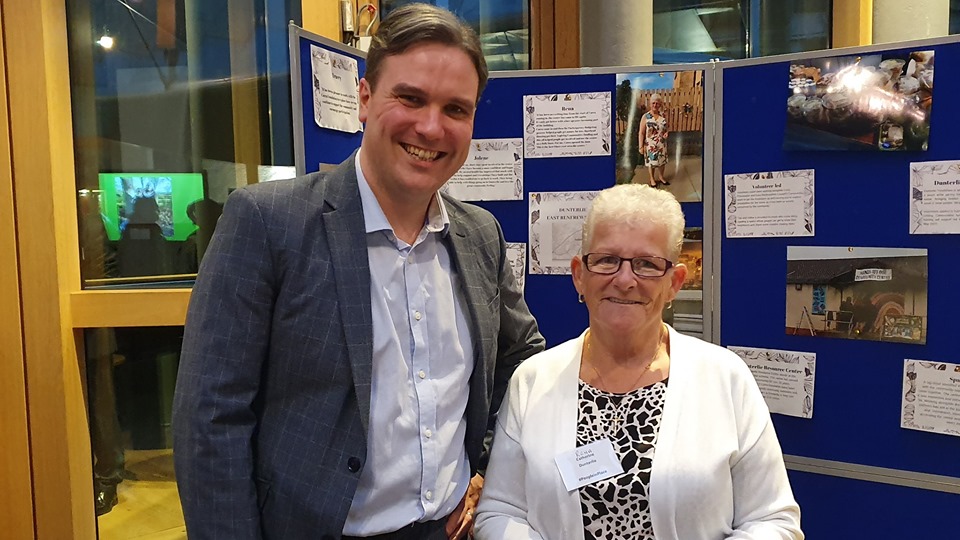 On Friday 18 October from 1-3pm, I'll be holding a Macmillan Coffee Afternoon event in my Johnstone constituency office. Everyone is welcome to join me for tea, coffee and some cakes later this month in aid of this great cause.
Macmillan provides financial, physical and emotional support for people living with cancer, and events like this help give something back, so I hope to welcome as many of my constituents as possible.