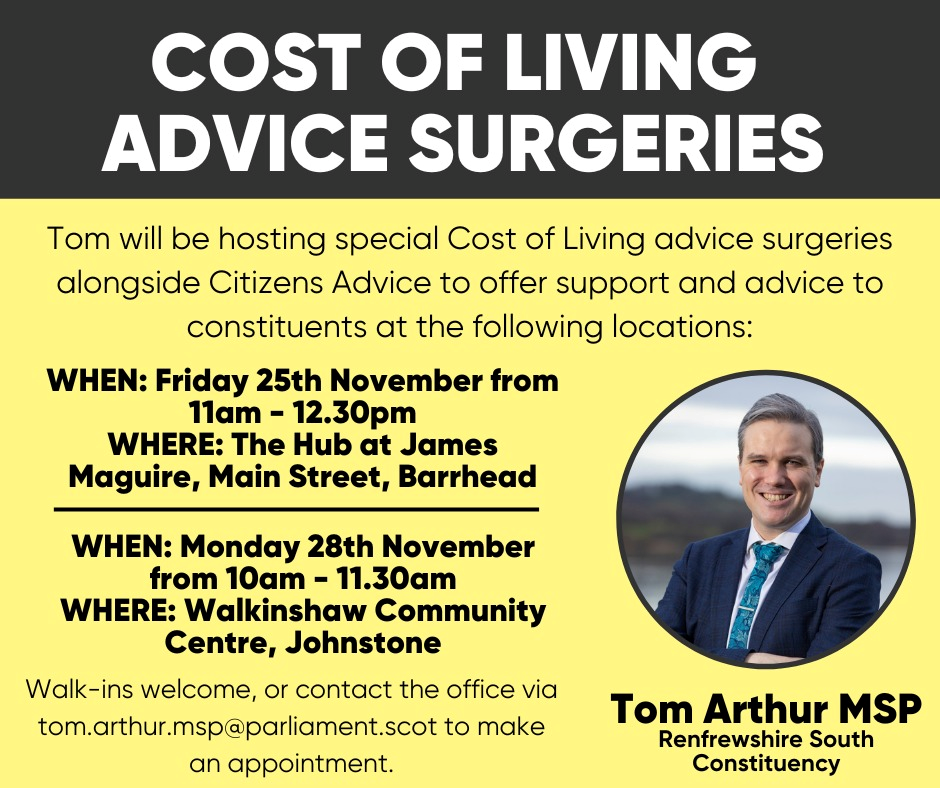 Tom Arthur, SNP MSP for Renfrewshire South, is encouraging constituents wanting help or advice to come along to one of his dedicated Cost of Living Advice Surgeries, taking place over the coming weeks. Mr Arthur has planned these events as a result of a worryingly increasing number of people contacting his office for help with growing bills and other cost hikes in recent months.
The first advice surgery, on Friday 25th November, will be held in The Hub at James McGuire on Barrhead's Main Street from 11am-12.30pm. As well as the local MSP, those attending will be able to meet directly with representatives from East Renfrewshire Citizens Advice to receive expert advice and support with their current financial struggles.
On Monday 28th November a second surgery is planned, this time in Walkinshaw Community Centre, on Walkinshaw Street, Johnstone from 11am-12.30pm. Constituents will have the opportunity to speak to the MSP and Renfrewshire Citizens Advice staff who will answer questions and give guidance on matters such as low income, welfare benefits, Scottish Government support and energy bills to name but a few.
Commenting, Tom Arthur said:
"This current cost of living crisis is showing no signs of relenting, indeed more and more people every week are contacting my office for assistance and support with rising costs. There is not a single sector of society unimpacted by the crisis, and many of those affected have no prior knowledge of benefits systems or safety nets that may be available to them.
"I have spent the past few months meeting with local organisations who provide varying types of support across Renfrewshire South, as well as continuing to hold advice surgeries by appointment. It seemed to naturally follow that I arrange events that combine the two and give my constituents the chance to link in with Citizens Advice.
"I would urge anyone experiencing difficulties or wanting advice to come along."