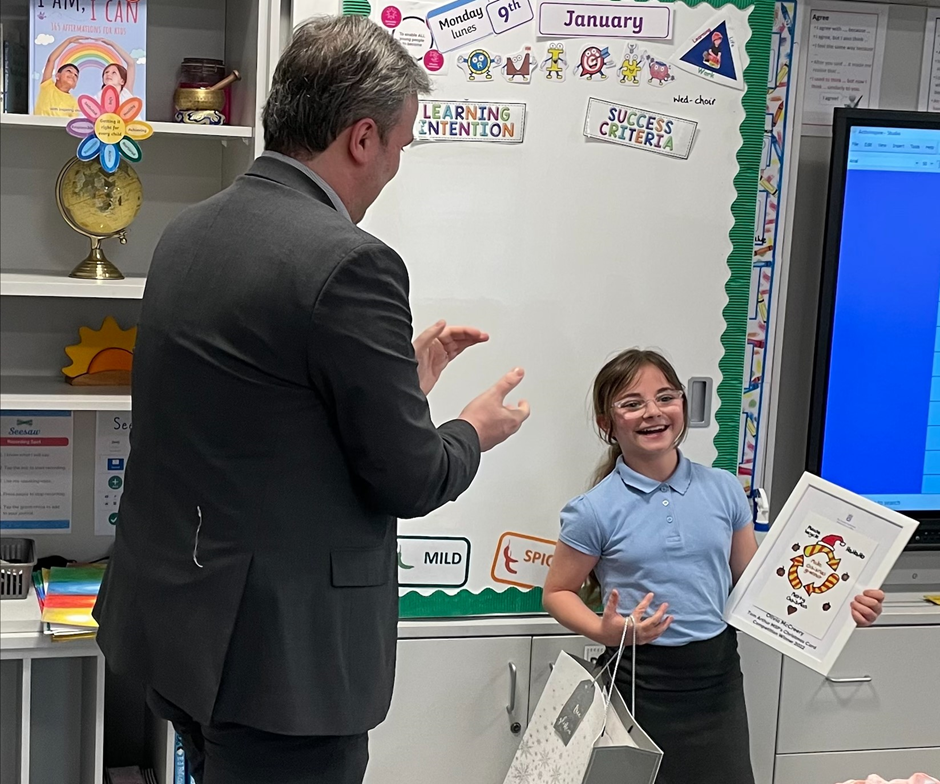 Tom Arthur, SNP MSP for Renfrewshire South, recently visited St Anthony's Primary School in Johnstone to congratulate the winner of his Christmas card design competition, Oliva McCreery. The Primary 6 pupil entered the competition along with dozens of children from schools across the constituency, to design a card with the theme 'A Green Christmas'.
Tom took his time to go through all of the amazing drawings, paintings and mixed-media design entries, and chose Olivia as his lucky winner, presenting her with a framed copy of his Christmas card featuring her design and a competition prize during his visit to the local school.
Commenting after the visit, Tom Arthur said:
"My annual Christmas Card Competition is always one of the highlights of my year and I continue to be blown away by the wonderful entries from primary pupils across Renfrewshire South. This year was no exception.
"The children's interpretations of the 'Green Christmas' theme were particularly inspiring and demonstrated how this generation of young people have such a keen understanding of climate change and other environmental pressures that the world faces today.
"It was so difficult to choose just one winner from the huge variety of beautiful pictures sent in, but Olivia's design just encapsulated the theme perfectly.
"I would like to thank all of the pupils and staff who gave their time and efforts to help create these designs, especially Olivia and the staff at St Anthony's Primary. I cannot wait until the autumn, when we start the competition again for 2023's card."