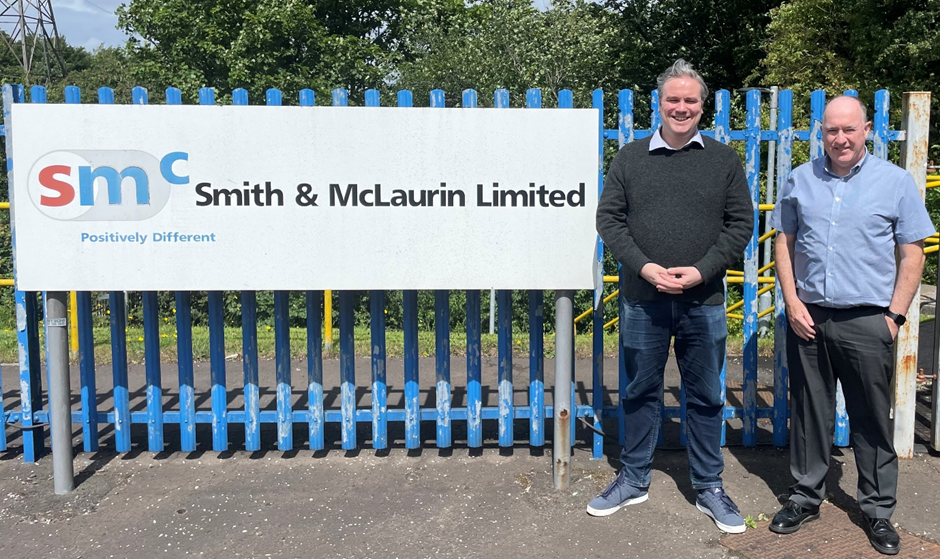 Tom Arthur, SNP MSP for Renfrewshire South, visited Smith & McLaurin Ltd in Kilbarchan recently to meet with Managing Director Pat Kennedy, Sales Director John Radford and Supply Chain & Commercial Director David Hollas. Tom reached out to the organisation as part of his programme of meetings with local businesses within the constituency.
Smith & McLaurin are one of the longest established businesses in Renfrewshire, having first begun trading in 1849 and they have held a proud tradition in the production of innovative products and as a key local employer, ever since.
Speaking after the visit, Tom Arthur said:
"I was keen to meet with the Senior Management team at Smith & McLaurin. The long established Kilbarchan business have a very strong local presence and employ around 80 people from the communities that surround the site.
"It was interesting to hear all about the history of the enterprise and their diverse product ranges, some of which were even used in the Apollo spacecrafts travelling to the moon in the 1970s.
"Smith & McLaurin are not just an important player in Renfrewshire South's current manufacturing industry, but have formed part of this region's industrial heritage, dating back to the mid-19th Century. I know that the business will continue to adapt and diversify to market demands and I wish them all the best going forward."