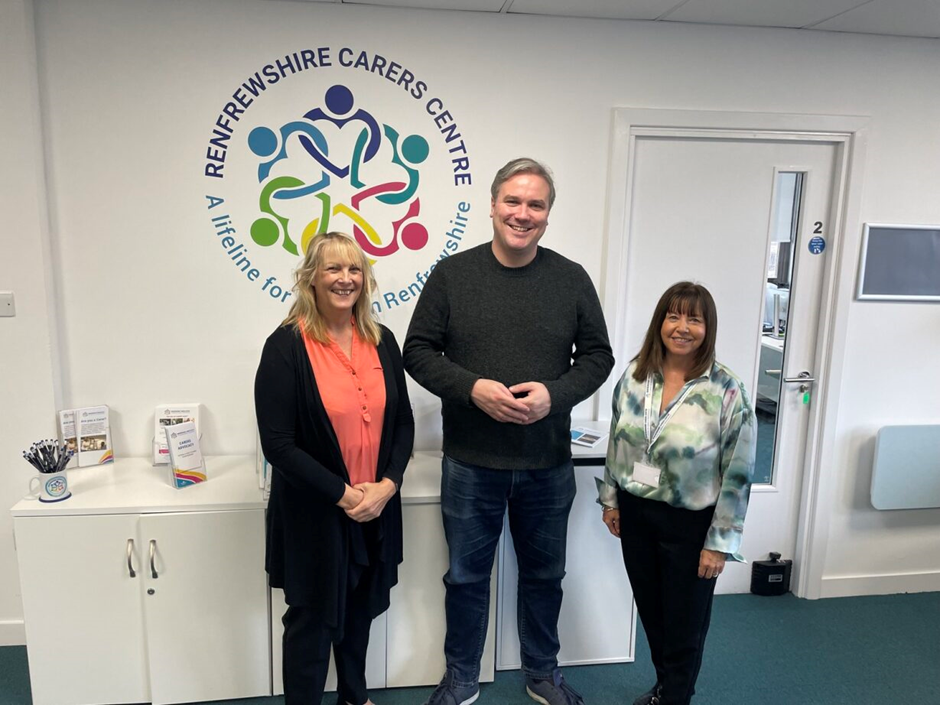 Tom Arthur, SNP MSP for Renfrewshire South, recently visited the Renfrewshire Carers Centre to meet with Centre Manager Dianne Goodman and Carers Services Manager Maureen Fisher. Tom reached out to the Paisley-based charity, which provides resource and support to carers across Renfrewshire, to arrange a catch up.
Tom has a long-standing relationship with Renfrewshire Carers Centre and its counterpart in East Renfrewshire. Seeing the valuable contribution that paid and unpaid carers make to the communities across Renfrewshire South, ultimately led to Tom becoming the first MSP Carer Positive Employer, 6 years ago.
Commenting after the visit, Tom said:
"It was great to meet with Dianne and Maureen at the Carers Centre again. Every time I visit, I am blown away by the huge range of activities and support that they offer to paid and unpaid carers of all ages all over Renfrewshire.
"If you are a carer, or have caring responsibilities and would like some more information about the support that Renfrewshire Carers Centre can offer, take a look at their website: renfrewshirecarers.org.uk
"We owe a debt of gratitude to all of our carers and organisations like the Carers Centre, the work that they do is nothing short of phenomenal. It is incredibly important that society, and government at all levels, recognise the vital role that carers have within our communities and do all within our power to support them in every way we can."