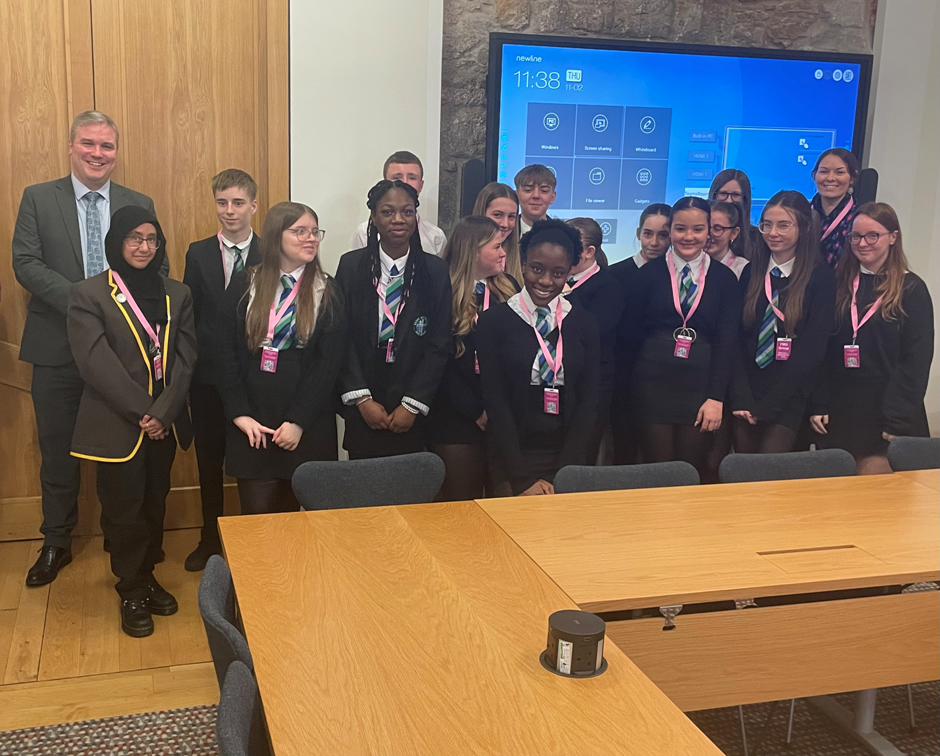 Tom Arthur, SNP MSP for Renfrewshire South, welcomed his constituent Mariya Javed to the Scottish Parliament for a visit earlier this week. Tom had invited Mariya to Holyrood in the letter he sent offering his congratulations and support for her amazing fundraising efforts. Tom also commended Mariya's tireless work over the past 6 years to promote the organisation that she helped to set up, in memory of her late brother Ahmar; Another Star in the Sky.
The 14-year old Castlehead pupil has accrued an impressive collection of accolades as a result of her charity work, including being a finalist in both the JustGiving Awards Teen Fundraiser of the Year and Young Scot Awards Unsung Hero categories. Mariya was also chosen as a Coronation Champion in the spring and having received the Renfrewshire Inspirational Award for Young Citizen in 2021, was invited back to the awards this year as a judge.
Mariya was joined for the visit by her mother, Sameena Javed and a Social Subjects class from St Benedicts High in Tom's constituency.
Speaking after the visit, Tom said:
"I was delighted to welcome Mariya to parliament and congratulate her in person for her fantastic work raising funds for Glasgow Childrens Hospital. She is an absolute inspiration and what she has achieved at her young age is just phenomenal.
"It is always an absolute pleasure to receive young people and local school groups from Renfrewshire South for a visit to parliament, and this was no exception."