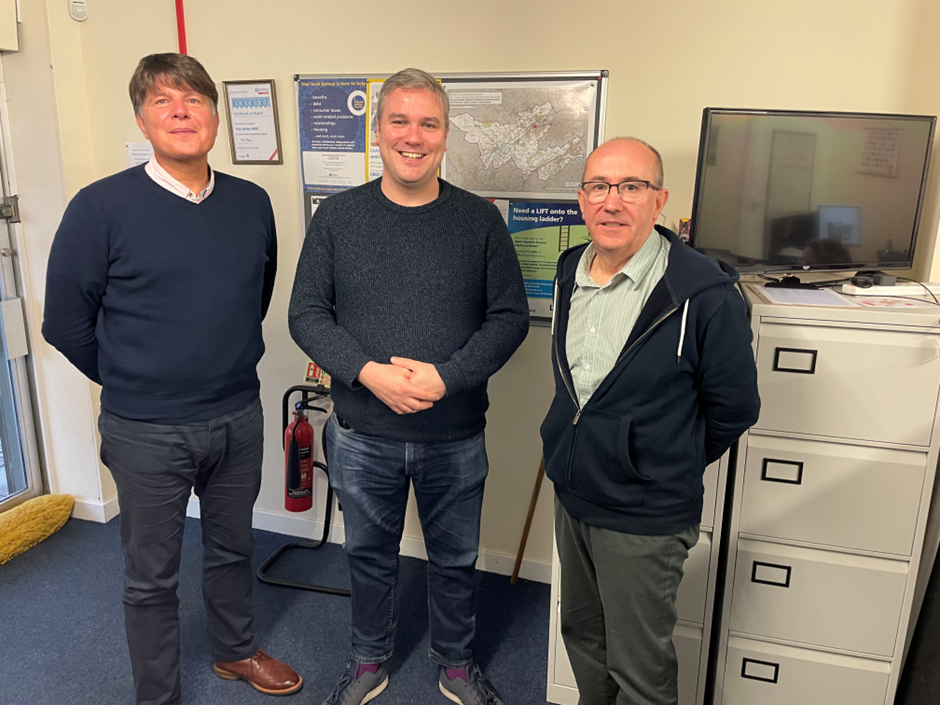 Tom Arthur, SNP MSP for Renfrewshire South met with Peter Jung and Stephen McLellan from Recovery Across Mental Health (RAMH), earlier this week.
Tom had contacted Stephen recently to wish him well in his impending retirement and was keen to meet with Peter as the organisation's new CEO so was delighted that they both agreed to visit him at his constituency office.
RAMH is a Scottish registered charity, with bases in Renfrewshire and East Renfrewshire. They provide support to around 7,000 people a year in these areas through a range of services including support at the point of crisis, one-to-one counselling, social and physical activity groups and help for individuals to gain or maintain housing and employment. RAMH promotes recovery from mental ill-health and empowers their service users to build independent, fulfilled lives.
During a series of regular meetings Tom has arranged with the support organisations operating across communities in Renfrewshire South, the constituency MSP has heard from frontline staff the hugely increased need for their services. RAMH is experiencing the same rise in demand, at levels never seen before, with leading contributors including lasting effects of the covid pandemic and people's growing financial challenges due to the Westminster-made cost of living crisis.
Following the meeting, Tom said:
"I was really pleased to welcome Stephen again prior to his retirement at the end of the year, and to meet Peter as he prepares to take the helm at RAMH. I have enjoyed a longstanding relationship with the organisation and have organised regular catch-ups with Stephen over the years. I look forward to continuing in that vein with the new CEO going forward.
"RAMH offer a range of hugely important services to vulnerable individuals throughout Renfrewshire South and I will keep doing everything that I can to ensure my constituents are supported in every way possible.
"I wish Stephen well in his retirement and thank him sincerely for his years of service to the communities across Renfrewshire and East Renfrewshire"